Res Arcana is one of my favorite games. I reviewed Res Arcana quite positively a while back, and after the game was released on Board Game Arena, I figured it was time to write a little bit more about the game. Res Arcana strategy is like an onion, and after getting to play it online as much as I have, I've continued to peel back the layers.
This guide is mainly about two player games, since I think this game is strongest at that player count, using the drafting variant, and all the base game's rules. Since Board Game Arena uses the full monument deck, I'll assume you're playing with the full monument deck too (although I do believe the game is more fun with the 7 card monument deck introduced in the expansion).
Misconceptions and General Res Arcana Strategy
Most players start playing with the mindset that this game is all about constructing the perfect engine. It is not. This game is a race to 10 points, and every path there is messy.
It might be an exciting idea to play all 8 of your artifacts, but unlike most other engine building games, more isn't always merrier. If you spend all your turns ramping up your resource production, you've spent a ton of resources doing it, and you've spent very few of those resources on scoring points. And that's not how you win a race.
So what is the alternative? Discard cards for resources aggressively, aim for points as quickly as you can, and play assuming the game will end on the fourth round.
So going in, have a plan. In general, you'll either go for a place of power to generate most of your points, or you will find a way to make lots of gold and get most of your points through monuments. There aren't many other ways to score, so at the beginning, decide what your cards lend themselves to do, and go for it. Choose a place of power, and purchase it as quickly as you can.
Economy
In this game, since it generally only lasts a few rounds, your essence producing cards will only have a few rounds to be worthwhile. For nearly every economy card in the game (that is, cards that just increase your total number of essences), you will have to play it on the very first turn of the game to see a positive yield at all.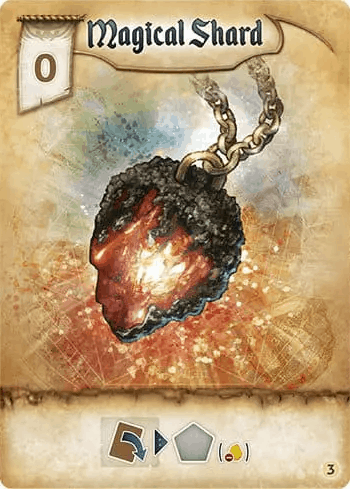 Since the game almost always ends on turn 4 in competitive circles, you can calculate exactly what the yield will be by the final turn. Magical Shard, a card that taps for a single essence, has no cost, so you might think that it net's you an essence on the first turn. However, since cards can be discarded for 2 essences, there is an implicit cost of 2 essences on top of every artifact card's actual cost.
So the Magical Shard still will net you 2 essences, but only if you play it in the first round and use it each round after.
Every card I list in this Res Arcana Strategy Guide will assume the implicit cost of 2 essences added to each artifact.
Res Arcana Strategy for Artifacts
So one of the most important aspects of this game is understanding artifacts: how to use them, and which ones are worth using. So, I ordered every artifact in the game by their strength, broken into tiers. In this Res Arcana list of cards, I will rank them in tiers, and give a short review of each card.
S Tier – The Very Best Artifacts in Res Arcana
I wouldn't call these two cards unbeatable, but they're very good. Having one of these cards increases your odds of winning by just a bit too much. I would not blame you for taking them out of the deck, especially the Philosopher's Stone (since it's so consistent and repetitive).
A Tier – Always Take These Artifacts
These cards are all cards that I'd pick in a draft regardless of what else is going on in my game, because they'll always be good, and I never want my opponent to have them. I'm happy to first pick any of them, and I'm very happy to get any of them as a second or third pick.
B Tier – Always happy to have them
C Tier – Roll Fillers
These cards aren't crazy, but most of them aren't bad. They'll usually be worth playing if you draw them early enough, but how good they are depends on what else you've got going on. You'll discard these cards a fair amount, but you'll play them just as often.
D Tier
For the most part, these cards won't be played very often. It's usually better to discard them for resources outright than to bother playing them. Of course, sometimes you'll play them and find a way to use them well, but that will be rarer than not.
The Dragons
The Dragons are interesting cards, but their ability is rarely worth actually using. When the dragons are played at all, they're only worth playing for the synergy with one of the places of power, and not for their attacks.
Now, the dragons aren't all equal. Earth, Wind, and Sea Serpent all have significantly better attacks, which won't come up often, but it might. The other's are just way too easy to ignore. The bone dragon can be worthwhile because its much cheaper than the others, so it has a lower entry barrier to be used with the dragon centric places of power.
But I'd say the Sea Serpent is the best dragon of the bunch. Its high cost is a boon with the Sacrificial Dagger or the Sacrificial Pit. Additionally, it scores very nicely with the Sorcerer's Bestiary, netting you a cool 4 points total.
F Tier
Lastly, we have the cards that are useless. I can't imagine the scenario where these cards even get played. Never say never, but, these cards might be an exception. Honestly,
Res Arcana Strategy for the Places of Power
By far the most powerful place of power is the Catacombs of the Dead. It can win by the fourth turn without playing any artifacts at all if you have the right mage. The Dragon's Lair can be quite powerful too in the right situation. Just remember to stay flexible, but also to know how you plan to score going in. You don't always have to buy a Place of Power, but when you do, you should typically plan to score 5+ points with it.
Res Arcana Strategy Guide: In Conclusion
That is the basics of Res Arcana strategy. Obviously, there is always more to learn, but this should be enough to get you competitive at higher level tables. Let me know what you think of it. Do you agree? Disagree?